Hello once again everyone,
With the end of the summer coming for most of you, with the exception of the lucky ones who still have an extra few weeks, we've decided to have an
end of summer sale.
However this isn't just a normal sale,
5% of all earning made while the sale is active will go to the Red Cross for all those who were effected by Hurricane Harvey
, our condolences are with those of the families of those who were affected in this tragic event. With the sale, we've made minor changes to the store, one of which is adding a 'Rank Upgrades' section, other changes include creating packages for cratekeys etc...

Now, onto some more good news, with the votes total always being so high at the end of every month, we have decided that it's time to reward those who vote for us and help us grow everyday. At the end of every month,
the top 5 voters will be rewarded with buycraft vouchers
, the rewards will be as followed;
Top Voter 1
- $50 Buycraft Voucher
Top Voter 2
- $40 Buycraft Voucher
Top Voter 3
- $30 Buycraft Voucher
Top Voter 4
- $20 Buycraft Voucher
Top Voter 5
- $10 Buycraft Voucher
The vote month will start today, and on the 30th of every month, we will announce the winners, with the next vote month starting the 1st of every month. I wish you all luck, and may the best voter win!
Finally, I just want to finish by saying that
we are working hard to arrange some community events for everyone to be able to take part in,
to make the server more fun to play on for everyone. If you have any questions about anything mentioned in this announcement, message me or another member of staff.
Regards,
Checkinq​
Dear all,
I'd like to start off by introducing myself to the community, my name is Matt (Checkinq in-game) and I'm the new UK Manager here at CloudEscape. I'm so excited to be working with the community and to be with CloudEscape as it grows and flourishes. If you do see me around, don't be scared to say hello, and if you have any problems, do message me.
Now, onto the interesting part, with my arrival, I'm looking for an EU team, our current staff team is built up of mainly US players leaving a gap in moderation during the day for us EU players. We are only looking for professional and dedicated staff who are prepared to stay with us long term, only the best applicants will be accepted, below you'll find a guide on how to improve your application and maximise your chances;​
Q: Why do you want to be staff?
A: We're looking for detail, in this question, you'll have to explain why you want to be staff on CloudEscape, it could be because your passionate about helping the server, or that you enjoy playing the server etc.. Aim to produce at least 4-10 full sentences for this question, it must be detailed.

Q: How can you help improve CloudEscape?
A: This question isn't as straight forward, however it isn't too difficult, just include what your presence brings to the server, how does you being a member of staff help the server and players, what will you do to make sure players have a good experience at CloudEscape. Aim to write at least 5-15 full sentences for this question.
Q: If you were in a situation that you didn't know how to handle, what would you do?
A: This is another straight forward question, just include the steps you'd take in a situation you don't know how to handle or can't handle, give some examples of situations and what you would do. Aim to include at least 3-10 full sentences for this question....
This Prison is an
Adventure Prison
so there will not be warps to specific mines, you get to find them. The more OverPowered Mines are hidden better and further away from spawn than the coal/iron mines.
Pickaxes
You do not start with a Pickaxe YET, we plan on letting everyone start with a wood pickaxe when this releases. You can get a pickaxe by purchasing them at the PickShop from the Pick WarLord. To get money for a pick, you have to punch coal blocks and sell it at the shop to the Merchant.
Leveling Up
Starting off, you will only be allowed to mine coal until you level up. You can level up by mining, killing people, and envoys
Guards
The PrisonGuards will only attack you if 1. You're holding a sword, or 2. If you hit another player, or guard. The Guard, however, will forgive you within a minute
In Game Tutorial
There is a How To Play npc at spawn that will teach you everything you need to know about Prison♥
Announcing our First Tournament! All of this weekend you will be able to grind and mine as many blocks as possible! We will have a warp full of cobble if you would like to mine there. Top 5 will recieve large amount of keys and some buycraft coupons. All Participators will receive 4 of each key! Make sure you enter by the NPC at spawn!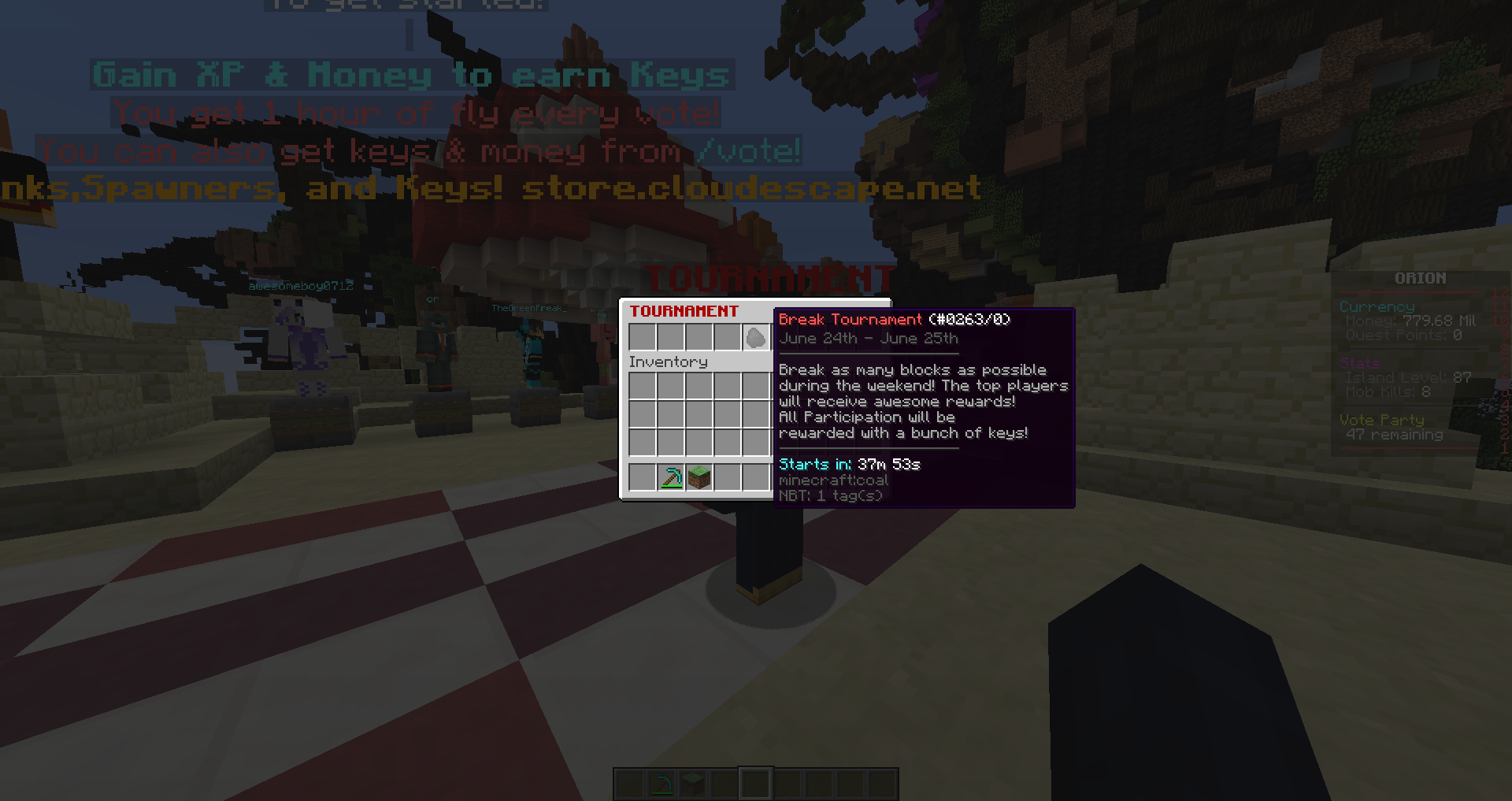 In order to bring about a more strong forum presence, we have decided to create the Forum Boost Initiative. Starting today until the end of next weekend you may create an account, or if you have already created one and we will grant you 5x Free Spawner Keys! Please follow the format below and post in the comments of the post to receive your free spawner keys. These will be granted at the end of the night and placed in your inventories for the next day.

Ingame Minecraft Name:

Staff Member who referred you:

What do you want to see added to Orion:

Example:

CloudEscape or AustinGaming

CloudEscape himself

More Players and Community Events!
Hey Everyone,

I just wanted to let you know that Orion is going to be releasing on Friday. This is basically the first server I have put 100% effort into since last summer. I know you all are going to love it and appreciate how much work went into it. Expect a full feature list on Thursday Night!

Sincerely,

Austin Prado

P.S: If you have anything you want added to Orion please leave it in the comments.
We have decided to change the Fly Perk to Poseidon+. I know this may upset some of you but we are firm with this decision.

Sincerely,

Administration Team
Tomorrow's Update will Include the Following:
3 Custom Bosses

These will be purchasable at your local Spawn NPC or by using /bossShop
These will also be spawned bi-hourly at /warp boss
Rewards include 100 Million and Cloud Keys

Rank Rental Bug Fix
I just wanted to make a courtesy post so that all of you are up to date on what is going on here at CloudEscape. We are launching a revamp basically meaning we are changing up how everything works and the type of network we are going to be. We have upped our servers' ability to handle player count so that know when you play with 200 other players we will be able to handle it with 0 lag. I know it has been a while but its finally here. As far as your donor ranks go, you will log on and receive your newly-named donor rank as soon as you log( allow for up to 10 minutes). If for some reason you are not able to receive your donor rank please make a thread on our forums on our donor thread.

Now I know some of you are like #Atlantis and only wanna keep playing that. Atlantis will be down for a few days so that we can update it to work with our new network system. When we open it back up, you will be able to log in and yes your stuff and islands will still be there! We want this to be as smooth as possible for everyone! If you have any questions feel free to post it down below!